Recently, one of the most famous umpires Steve Bucknor has been criticized because of his poor decisions in the on going Test series between Australia and India. However, this hero has become villain from hero for his horrendous mistakes in the second Australia vs India Test match at Sydney. That is why, Indian people and Indian cricket team fans have caught fire in his effigy. Because of BCCI's pressure, ICC chief executive Malcolm Speed has replaced him with the New Zealander's Billy Bowden for the next week's Test match.
His poor umpiring has raised many questions to his fans. Why and how it was possible by Steve Bucknor whose eyes compared with eagle.
However, Steve Bucknor was not only an umpire but also he had a mathematics teacher, football referee and coach.
If you want to know details about this person then read till the end about his inns and outs.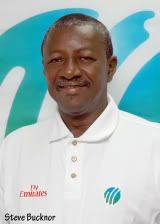 1. His full name is Stephen Anthony Bucknor but widely known as Steve Bucknor.
2. He is more popular as an international cricket umpire.
3. This well-reputed umpire was born in May 31, 1946 Montego Bay, St James, Jamaica.
4. His current age is 61 year, 223 days. He is 6ft 3inch tall umpire in cricket game.
5. He appeared as a high school mathematics teacher and sports coach before going on to be one of Jamaica's sports officials as an international football referee and more famous as a cricket umpire.
6. In October 2007, he was awarded the order of Jamaica, Commander Class for outstanding services in the field of sports.
7. Bucknor was a FIFA referee in the World Cup qualifier between El Salvador and the Netherlands Antilles in 1988.
8. After El Salvador vs Antilles World Cup qualifying match he had to retire from football refereeing because the FIFA age limit for referees was lowered to 45.
9. He made his first debut in ODI cricket between the West Indies and India at Antigua on March 18, 1989.
10. His first Test match was at Sabina Park, Kingston, Jamaica from April 28 to May 3, 1989 with the competing teams between West Indies and India.
11. He has umpired more Test matches than anyone else, breaking Dickie Bird's record in 2002.
12. In March 2005, he became the first umpire to stand in 100th Tests. Only David Shepherd and Rudi Koertzen have umpired more ODIs.
13. Bucknor also stood in next four successive world cup finals in 1996, 1999, 2003 and 2007, with the 2007 World Cup taking place in his native West Indies.
14. However, those records are almost certain to be extended further as he is not scheduled to retire until 2001, but whether he can continue with a punishing workload remains to be seen.
15. The officials are now chosen from the Elite Panel of ICC Umpires, which is widely thought to contain the world's best umpires. Bucknor has maintained a place on the Elite Panel since its foundation.
16. Bucknor has stood as an outfield umpire in five World Cup tournaments, during which he has officiated 44 matches including a record five finals.
17. Bucknor holds the record for the most Test matches umpired. It is so far the only umpire to have officiated in over 100 Test matches.
18. He has stood in 14 Ashes Test matches and officiated in Bangladesh's first ever Test matches.
19. Bucknor has officiated in the third highest number ODI's after Rudi Koertzen and David Shepherd.
20. Bucknor has received the ICC's Bronze Bails awards for umpiring in 100 ODI's and the Gold Balls award for umpiring 100 Test matches.
21. "Slow Death Bucknor" is known for taking a long time to consider LBW appeals before giving a decision.
Information collected from:- WIKIPEDIA, Cricinfo.
Enjoyed reading- Why not subscribe to the feed of the blog?