Only less than 48 hours are left to start the India vs Australia 1st Test match. It will take place at Melbourne Cricket Ground. This five-day Test match will start from 26th December, 2007. Before start the match, it has become the most exciting and competitive match of the world. It has become successful to catch the attention of all cricket fans. Fans of both teams are eagerly waiting to see that India can win the match against Australia in their home ground as it is away series.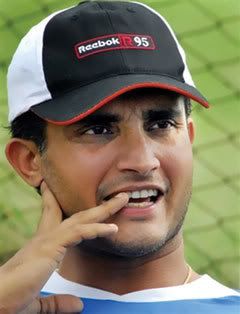 Like other senior players, it is perhaps the last Australia tour for Indian left-hand 35 year old batsman Sourav Ganguly. That is why, he is hoping to play well and make the match memorable. Not only to make the match remarkable but also he is going to start his 100th Test match in this MCG with the Boxing Day. It is really a special match for him. You already know that Sourav Ganguly is an Indian batsman and part of Indian batting trio. He was dropped from Indian national team and again was recalled for ICC World Cup 2007. He had to go throw into a bad time. Now, he has proved that his drop from national team was not correct decision. However, you will be happy to hear that fans of Sourav Ganguly have already started exhorting him to hit 100 in 100th Test.
No doubt, Sourav is going throw under huge pressure as fans have more expectation from him. It is not unexpected as he played well against arch rivals Pakistan team and played some big innings including 239. He has already scored 6346 Test runs in 99 matches where he hit only 15 centuries at an average of 43.17.
So, dear fans we can see in the first Test what he does with the bat. If he can make century in his 100th Test century then it will make him part of record in Aussies soil and set India in a strong platform.
I know it is a matter of gamble and many gamblers will bit gamble about him ahead of the 1st Test that can make 100 or not.

Enjoyed reading
- Why not subscribe to the feed of the blog?