Sourav Ganguly is one of the most important batting pillars in Indian batting trio (Sachin-Sourav-Dravid). He is also the most successful captain of the Indian national cricket team. India team got many wins both Test and ODI in home ground and abroad under his perfect captaincy. Now, this batsman lost his captaincy but doesn't lose his prime batting form. He is still playing both Test and ODI cricket and dominance over opposite teams. So, many of you should want to know about him. That is why; I have collected a list of 50 things about Sourav Ganguly. It should help you to know you about his childhood and cricket career.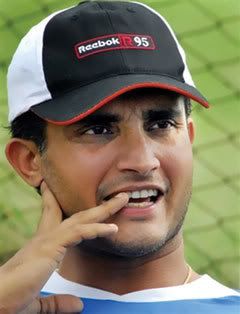 1. His full name is Sourav Chandidas Ganguly.
2. He was born in July 8, 1972, Calcutta (now Kolkata), Bengal. According to his date of birth, his zodiac sign is Cancer.
3. His current age is now 35 years 154 days.
4. Sourav married Dona Ganguly.
5. Ganguly is the first left-handed batsman and a right-handed medium-pace bowler.
6. He is naturally right-handed batsman but the reason of his becoming left-handed to use the equipments of his elder brother Snehasish.
7. Sourav lives in a joint family. His family member is 50 including him.
8. His home in Behala, Kolkata has 48 rooms and his family owns 32 cars.
9. Sourav and Sachin are one of the most successful opening pair ever in one-day cricket (ODI).
10. Sourav never thought to be a cricketer. And his first chosen game was not cricket. Even today, he would rather watch football than cricket on TV.
11. Sourav Ganguly wanted to be a footballer and he continued his football playing till his age of 13 but he took cricket as his elder brother was a cricketer.
12. His favorite position in football is 'striking'.
13. Sourav maintains a diary in Bengali.
14. Sourav is a very religious person and he always pray before every match.
15. Sourav is called Bengal Tiger, Prince of Calcutta, and Lord Snooty by his opponents and his team mates are called him 'Dada' affectionately.
16. Ganguly was the captain of India team from 2000 to 2005. And under his captaincy, India could reach in the final round in 2003.
17. Sourav Ganguly made his One Day International (ODI) debut for India team against West Indies in 1992.
18. In his debut match he scored only 3 runs off facing 13 balls.
19. His poor performance left him out from India team but he returned back in international cricket after four years.
20. He made his Test debut at Lord's against England.
21. He scored hundred in his debut match against England team.
22. He became only the third cricketer to score a century on his debut match at Lord's after Harry Graham and John Hampshire.
23. In 1997 Ganguly scored his maiden century against Sri Lanka. Opening the innings, he scored 113
24. His best bowling in ODI is 5/16 off 10 overs.
25. After a barren run in Test cricket his form returned at the end of the year with three centuries in four Tests all against Sri Lanka two of this involved 250+ stands with Sachin Tendulkar.
26. In 1999 world cup Ganguly scored 183 runs against Sri Lanka at t Taunton off facing 158 balls including 17 fours and 7 sixes.
27. He is the second fastest player to reach 10,000 and 11,000 ODI runs.
28. He captained India team in a record 49 Test matches.
29. India got record 21 Test win under his captaincy where 12 matches were out side the Inida.
30. He is the seventh Indian batsmen to score 6000 Test runs.
31. He made a record of most 200+ ODI partnerships along with Sachin Tendulkar and Ricky Ponting.
32. He also made a record of 300 runs Partnership in 5th wicket along with Yuvraj Singh.
33. He is also the only player to win 4 consecutive 'Man of the match' awards in ODIs.
34. He is the most successful OID captain in India team.
35. Interesting thing is that he is the first Indian who scored an ODI century against Australia in Australia.
36. His career best Test score is 239 against Pakistan in India.
37. He had to face 362 balls where he hit 30 fours and 2 sixes.
38. Sourav got 'Man of the series' 2 times in Test and 7 times in ODI.
39. He got 'Man of the match' award 4 times in Test and 31 times in ODI.
40. Sourav earns around 7 crores a year just from endorsement and charges 1 crore for each advertisement.
41. Sourav is the third highest OID scorer in the India. He has scored 11363 in 311 ODI's.
42. Ganguly has the highest Test and ODI aggregate of any left-handed batsman India has produced and his 15 Test and 22 ODI centuries are also a record for any Indian left-hander.
43. He also led India to their first series wins in both Tests and ODIs in Pakistan, a feat that had eluded India for over 50 years.
44. India has never lost a Test match in which Sourav scored a century.
45. He was 20 year old boy when he debut in ODI cricket.
46. Ganguly is only the third Indian Test batsmen to maintain a career average that never dipped below 40 runs per innings for his entire Test career.
47. Sourav also record along with Sachin Tendulkar the highest 1st wicket ODI partnership.
48. He is the third batsman in the list of hitting maximum number of sixes in ODI. He hit 190 sixes in 311 ODI matches.
49. Sourav ans Sachin scored highest 25 times 100 runs partnership in 1 wicket in ODI. The nearest competitor is Adam Gilchrist and Matthew Hayden pair they scored 17 times in 1st wicket.
50. Sourav eats only vegetarian food on Tuesdays and Saturdays.

Enjoyed reading
- Why not subscribe to the feed of the blog?