Ishant Sharma is the new bowler in India national team. He is tall, young and energetic fast bowler that has been rarity in Indian cricket team. He has just started playing cricket for Indian national team. No doubt, he will be one of the most important fast bowlers in Indian national team soon. Ahead of the four-match Test series against Australia, he has been selected in the 16-men squad. So, obviously he will catch the attention to all media people. And many of you will feel interest to know about him. That is why, I have made a list of 15 things about Ishant Sharma. So, go ahead and get the information about this tall and young fast bowler.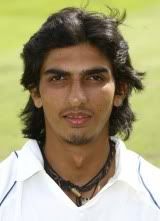 1. His full name is
Ishant Sharma
.
2. He was born in September 2, 1988, Delhi.
3. He is right-hand batsman and right-arm fast-medium bowler.
4. He can bowl at pace around
5. He can bowl at pace around 130 km/h (80 mph).
6. When he was 18 then he was called up to join the Indian national cricket team for the 2007-07 Test series in South Africa.
7. He made his Test debut against Bangladesh in January on May 25-27, 2007. He was recalled as a replacement for fast bowler Munaf Patel for his national side for the second test again Bangladesh.
8. Ishant Sharma is the tallest bowler in Indian cricket team. He is 6'4 inch and still growing.
9. During Pakistan's tour of India in December 2007, Sharma picked up 5 wickets during the third test in Bangalore.
10. He started to play serious cricket at the age of 14.
11. Ishant Sharma plays for Delhi. He has already played four first class games where he has taken 19 wickets.
12. He played only two Test matches where he got 6 wickets at an average of 31.50.
13. He made his ODI debut against South Africa at Belfast in Jun 29, 2007. For India team, he has played only 1 ODI match.
14. Sharma toured England with the India Under-19s in 2006 and Pakistan in 2006–07. He has played three youth Tests and six youth One-day Internationals for India, and is yet to lose a match for them.
15. Ishant Sharma is young player. So, his selection in the national squad is an investment for the future.

Enjoyed reading
- Why not subscribe to the feed of the blog?